Last hunter for the hunting season is due in a few days and by July 1st I'll be swapping the mountains for a warm Tongan beach with the family.
But first I need the final details from our Red Stag hunter regarding his ETA and flight details. I am sure he or she is totally organised and excited about their pending visit, but it would be great if I was kept informed but without robust communications it is a challenge.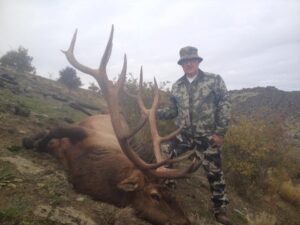 So I am starting the end of season report with a request to our next season hunters and indeed any of you that have expectations about a hunting trip with us. Tell us about it now, and keep the communications coming. We run a business and it has many people and a bunch of logistics to organise, we pride ourselves on a smooth well organised operation and to maintain that standard we must have plenty of accurate feedback. With good communications from you our hunters, we are totally organised for your hunt and everybody else's hunts as our busy season comes together.
The new hunting lease is fantastic. It is also a challenge as we learn the 'how's and why's' of the property and its inhabitants. We are finding the deer trails, figuring out the vantage points, best approaches and which areas the animals tend to favour.
One thing is certain, the exclusive lease and the management freedom we have, coupled with an extremely engaged owner are working extremely well. The successes of this seasons hunters should be testimony to our expectations of success for 2018 season and many more to follow. The stag population is well supported by great genetics, our fallow are thriving and chamois numbers are set to increase.
If our atte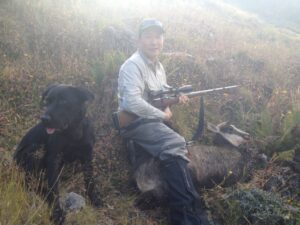 mpts to re establish and increase the chamois population work we will have a very exciting addition to our hunting prospects.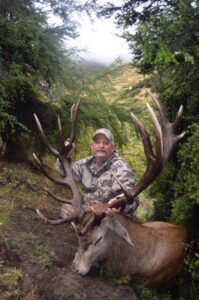 As a reminder our "season" is broken into 16x  7 day periods, starting March 6th in 2018, with an arrival day and departure day and in most circumstances 5 full hunting days. This is normally 'in' Sunday, 'hunt' Monday-Friday, 'out' Saturday or Sunday. With a maximum of 4 hunters over any one period, our expectations are to have 40-50 hunters onto our properties for the season. Properties being our local lease, access to 2 very good Tahr properties, as well as 2 other Red Stag options, we have plenty of area and scope to operate. Our main goal is to maximize our hunters opportunities on quality animals at all times and a sustainable harvest within our lease and access agreements. All about management and that is researched over the last 30 years of being involved in the guiding industry.
I'll let the photos do the talking on the quality of our animals. Again 100% on Red Stags, Fallow Buck, Bull Tahr and Chamois. Our archery hunters had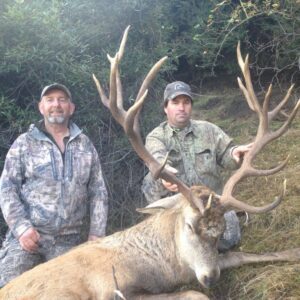 their momen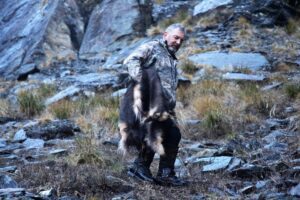 ts and took some great animals, certainly never short of opportunities. Congratulations to all our rifle hunters, awesome shooting all round and some very impressive performances. The advent of long range rigs coupled with good practice and marksmanship are a real bonus on our new lease, there is a certain amount of satisfaction in finally getting a sneaky animal with a 400-600 yard shot. Long way to walk after the bang but very satisfying.
On the family front, 2 new additions this year, Jacqui arrived on May 14th much to Sue's (yeah and my) excitement JQI is a M5 Maule 235hp tail dragger. Its great to have an aircraft back in the family, many adventures to be had and she is already being put to use as a spotter for our alpine hunting. Purely recreational for Sue.
"Bean" our lab /collie has just turned 1, she's smart enough which is good as here natural lab instincts are well buried in collie blood. I can not fault her nose and sense of adventure, plenty of fine tuning still required and it would be good if she developed a retrieve into water, work in progress which we are all enjoying. Old Brittany perked up when the pup arrived but at 14 and with no hearing and limited vision he is officially retired.
Teenagers are well, busy and enjoying life. Tish is at University of Otago beginning her BSC, no major decided on yet, watch this space. University is situated in Dunedin so it's always a treat to have her home occasionally. Mel is queen bee around the place and making the most of her year 12 studies at our local high school. With us now living "out in the country" she drives to school as often as she catches the school bus. Yep they keep growing that's for sure.
Sue's full time flight instructing for a local flight training business, at times is a challenging role with plenty of leadership and responsibility mixed in.
I'll busy myself with hunting for hunters over the next 4 months, will no doubt get a few days on the trap line and do my bit to reduce the possum population. There is also a hunting lease to keep an eye on and a ski season to endure, the snow has arrived which is timely as I am complete from a spike camp in the alpine for chamois.
Thanks to all our hunters this year for helping us help you and looking forward to doing it all again March 2018. We will be in the USA for the convention circuit first 2 weeks in Feb 2018.
Get those emails flowing everyone, it is time to plan for the New Zealand hunting season.
Cheers GT