I Thought I would use the seasons as my starting point for this quick catch up.
It's our summer right now, mix that in with Christmas and New Year and you will find most of New Zealand at the beach or the lakes with boats, kids, family and pets. Work is for most, on hold for 2-3 weeks, not so for a fishing guide and a flight instructor. Sue has the busiest time of her year right now. Good weather, plenty of people and long days make for lots of logged flying hours and all the pleasures and pressures of work.
The fly fishing is in high demand, but I have a seasonal dilemma to deal with, my favourite fishing locati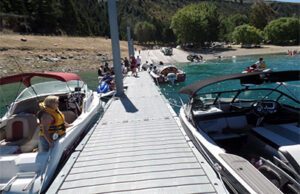 ons are now being used by mum's, dad's, the kids, the dog, their boats and their friends.  Hey, it's a recreational resource and free for all to use and enjoy but I certainly look forward to the end of the summer vacation and the crowds it brings to our area. Anybody that cares to tell me you can't have too much of a good thing! I'd be tempted to disagree on some "good" things.
Back in July (last blog) sunrise was 7.50 am, right now it's 5.55am and sunset is 9.36pm, lots of day light. Temperatures today are averaging 26C (80-85F), Wanaka will still be warm when March comes around and will bring the first hunters in for the season.
We have the annual visit to the USA and a couple of convention/expos to attend. Our booth for the SCI Convention January 31 to 3 February 2018 in Las Vegas is 4368, with a new convention venue I have no idea where that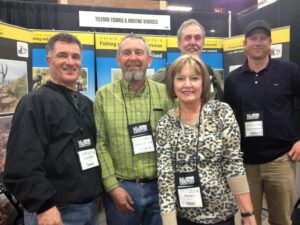 puts us, just get the convention guide and seek us out. SCI has the last year in Las Vegas as this organization heads back to Reno in 2019 at the Sparks Convention centre, the change of cities is an interesting debate but an academic one really as its the SCI organization that makes those decisions and they are ultimately making that decision for everyone's best interests. After Las Vegas, Sue heads home after Super Bowl Sunday and I'll be heading into Chiefs Country for the Kansas City SCI expo.
To date we have a solid season ahead of us with hunt bookings, BUT there are gaps available that we are keen to fill.
2018:
March has an opening for up to 4 hunters for the dates 7th -12th.
April, we have a postponed hunt opening right in the middle of the rut for dates 7-12th, 2 hunters max.
Also in April 28th – May 4th 2-3 hunters.
May 8-13th 1-2 hunters.
May 14-19th 2-4 hunters.
May 20-26th 1-2 hunters.
Just email us with the quoted "Newsletter 2018" to take advantage of these 2018 hunting dates and we will take 10% off your daily lodgings package price for one hunter and one non-hunter.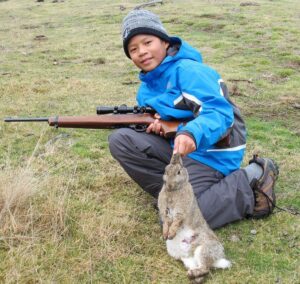 June and July 2018 hunting dates are wide open, and offer options that fit well for family hunts and the USA school break. If you're into skiing and hunting, Wanaka, our home town is 'ski central' and offers awesome snow sport opportunities. The hunting is great, and we are often able to tailor some very competitive hunts for this period.
As an aside to 2018 please note that April 2019 is already fully booked, yes, it's a tad unusual to be booked that far in advance but I'm not complaining, far from it in fact as it brings back good memories of the late 90's and early 2000's when it was normal to be booked 12-18 months in advance.
Out on the lease the Red Stags are in full velvet, tops are getting well defined and I'm pleased to say that with the excellent spring and great summer there are going to be some very happy hunters come March 2018. By the time I get back from the USA the stags will be stripping velvet
and finally revealing their trophy antlers. Fallow are putting out their palms and looking great as well. The Chamois plan has the paper work and permits in place for 2019. Yes, we still have chamois to hunt, just not on the same lease as the stags and fallow. Bull Tahr are business as usual and again I'll stress that these magnificent alpine animals can be hunted on foot provided you, the hunter, have a reasonable measure of fitness and an understanding of mountain hunting principles.
We tend not to use helicopters as an access option, instead we rely on our long-standing arrangements with local landowners for foot access to well managed Bull Tahr herds.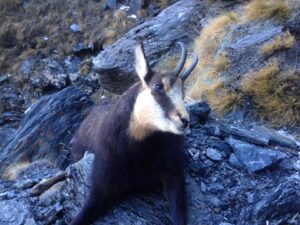 Family wise the last few weeks have been busy for the girls, Laetitia passed her first year University exams and has set her studies for 2018 with her major being psychology backed up with zoology and criminology, a clever course of study that has plenty of room to explore multiple disciplines and in theory offering a wide range of employment opportunities come 2020.  She also passed her A certificate with her gliding at the December 2017 Youth Gliding Camp based in Omarama and is excited about achieving the next stage of her gliding licence.
Mel is heading into her final senior year at High School for 2018.  She had an active and rewarding academic 2017, maintaining part time cafe employment between studies and social endeavours.  Melanie completed the challenging Outward Bound 21-day leadership and outdoor course in the Marlborough Sounds during December 2017. Right now, it's all about being a teenager and hanging with friends over summer break.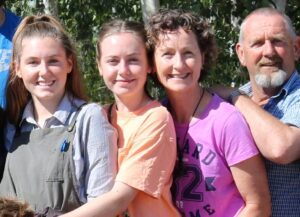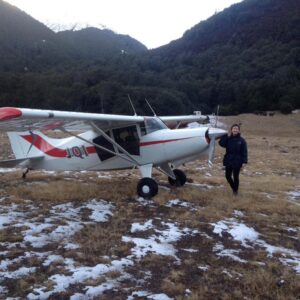 Sue works with the local flying school as a Flight Instructor/Scenic flying/Mountain flying pilot 4 days a week. During Sue's days off she takes her plane out for fun. She and her new best friend JacQuI, aka ZK -JQI an M5 235C Maule, have been exploring the mountain passes and airstrips scattered throughout our neighbouring national parks and remote regions. I had an awesome day with her this week in perfect flying conditions as she put the Maule in several back-country strips and we spent 2-3 hrs exploring our backyard, magnificent country out there in South Westland and Fiordland.
The other member of our family "Bean" our Collie/Labrador cross is showing her true potential and whilst still just a big puppy has fast become an important and valued part of our family. Kudu our Brittany has gone to the great hunting land in the sky after 14 valued years.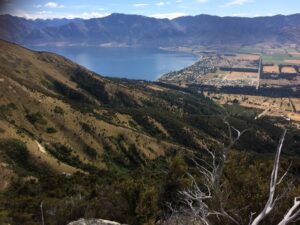 I'm looking forward to the coming hunting season, having the exclusive lease, and being able to put my management stamp on the deer, sits well with me. I know it will benefit our hunters this season and for many more seasons to come. For me there is an optimism around our operation and hunting in general that is refreshing. Still plenty of challenges for us as hunters in the wider communities we live in but nice buzz at the same time. Hey, I'm a hunter and we are all optimists, add to that the fisherman in me and it doesn't take too much to be excited about the next season.
Have a Happy New Year,
Gerald Telford